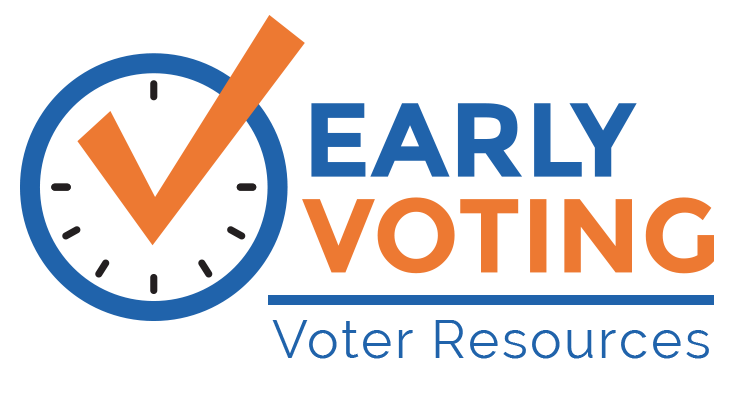 Start Date:
Friday, September 17th
End Date:
Saturday, October 30th
Early Voting at Registrar
Find Registrar's Office:
Chesterfield County Registrar's Office
Hopewell City Registrar's Office
Prince George County Registrar's Office
Got Questions?
Leave a message and a team member will contact you.
Frequently Asked Questions
Why should I consider early voting?
By voting early, you are ensuring that your vote is cast at a time that is convenient for you. Early voting is available on weekdays and the two Saturdays before the election.  Lines are often short and move quickly.  Voting early frees you up to help others on Election Day, by either supporting a candidate or assisting a relative or friend in getting to the polls.
When can I start early voting?
Early Voting is available starting 45 days before every election in Virginia. This is now state law and will happen every year for each primary and general election.
For the 2021 General Election, you can start voting on Friday, Sept. 17th at your local Registrar's Office. You may only vote in the county or city of your residence.
When does in person early voting end?
Last day of in-person early voting at local voter registration office is Saturday, October 30, 2021 at 5:00 p.m. If you are unable to make it, you will have to vote in person on election day, Tuesday, November 2nd.
Do I need an excuse to vote early?
Anyone can vote early. You will not be asked for a reason. You need only provide an ID.
How will early votes be counted?
All voting machines at the early voting locations will be secured each evening in a locked location that only the Registrar has access to. Results tapes from the machines will not be printed until after polls close at 7 p.m. on Election Day. These votes will be tabulated at that time as part of the Central Absentee Precinct and will be reported under that precinct. The Central Absentee Precinct contains all votes from Early Voting and Absentee by Mail votes.
How do I know if my vote counted?
When you put your ballot in the machine and watch the machine tell you that your ballot was accepted, that means your vote was counted. The results tape that prints from that machine on Election Night will contain your vote in the results that are reported that evening.
After the election, your voter record on the VA Dept. of Elections website will be updated with your "voter credit" to show that you participated in the election. This only shows that you came and checked in to vote in the pollbook at a precinct (or returned a completed absentee ballot).  This voter credit has nothing to do with the results of the election.  It is completely separate.  It simply informs the department of how many people participated in the election.  Local registrars have up to 30 days to download information about who checked into vote from pollbooks and type it into the state system to be reflected there.  Checking to see if the VA Dept. of Elections website has you listed as having voted in an election immediately after an election could be potentially frustrating as it is NOT a reflection of your vote being counted and is not immediately updated.  It is just an accounting for how many people voted in an election.
How are votes counted in Virginia? What accountability and auditing measures are in place?
The Commonwealth of Virginia PROHIBITS ANY voting machine from being connected to the internet. Virginia is one of the only states with this requirement.  As a result, vote totals and results are transmitted manually.  Once the polling locations close at 7 p.m. on Election Day, the Chief Officer of Election and Deputy Chief Officer of Election assigned to each precinct begin closing procedures for the precinct.  They run a results tape from the voting machines used in the precinct that day. The tape (which looks like a grocery store receipt) lists each race and the results of the ballots cast on that machine for that race.  This information is written down manually on a Statement of Results.  These totals are called into the Registrar's office by phone for Election Night Reporting and entered into the state system by hand by the Registrar.  The paperwork is then delivered to the Registrar's office that evening by hand by the Chief Officer of Election of each precinct.
On the day after the election, the Electoral Board meets to conduct a Canvass, which is an additional step to ensure accuracy and accountability of election results. The paperwork from each precinct is opened and reviewed.  The number of people who checked in to vote needs to match both the number of ballots cast on the voting machine as well as the number of ballots used in each precinct.  In the event that these numbers do not match and are off by even one vote, an explanation from the Chief Officer from that precinct is required.  A precinct may be off by one or two votes if a person checked into vote and did not cast their ballot and instead threw it in the trash or if a person mis-marked their ballot and required an additional ballot to vote. All these ballots must be accounted for, and explanations provided.  If it is discovered that the results numbers from the precincts were not accurately communicated to the Registrar (for example, if a number was transposed), then those results will be updated.  Electoral Boards and Registrars are provided up to a week after the election to canvass their results and make any necessary changes to correct inaccuracies.
On the Friday after the Tuesday election, the Electoral Board meets again to consider Provisional Ballots. Provisional Ballots are cast by voters who have a problem with their registration or are not allowed to vote on Election Day for some reason.  Typically, their case requires more research or additional information.  The Registrar will research the person's case and present each person's ballot to the Electoral Board with an explanation of the circumstances of their case.  The voter is also invited to attend and speak on their own behalf if they so desire.  The Electoral Board will consider and vote on each case as to whether or not to count that person's vote.  Once all of the provisional ballot votes that have been accepted by the Electoral Board have been counted, the Electoral Board will certify the results of the election and send that information to the State Board of Elections.
Paper ballots from every election are given to the Clerk of Court for storage in case they would be needed for a recount. Paper ballots provide physical proof of a voter's intent and are considered the most secure way to verify numbers after an election because they are immune to a cyber-attack.
Is there a deadline to request an absentee ballot to vote by mail?
If the voter chooses to mail their ballot, absentee ballots must be postmarked by Election Day (Nov. 2, 2021).
Absentee ballots can also be dropped off at any early voting location prior to Election Day or at any voting precinct within the locality on Election Day and put in a designated Absentee Drop Box that is monitored by an Officer of Election at all times.
Is there a deadline for submitting my absentee ballot by mail? Can I drop off my absentee ballot at my polling place on Election Day?
If the voter chooses to mail their ballot, absentee ballots must be postmarked by Election Day (Nov. 2, 2021).
Absentee ballots can also be dropped off at any early voting location prior to Election Day or at any voting precinct within the locality on Election Day and put in a designated Absentee Drop Box that is monitored by an Officer of Election at all times.
How are absentee ballots by mail counted?
A voter must first request an absentee ballot through an application which requires their signature, address, social security number and date of birth amongst other information. Many voters were surprised and confused when they received absentee ballot applications in the mail from third party entities leading up to the 2020 Election.  Some people believed that they were receiving absentee ballots that they did not ask for.  This is not accurate.  Any organization can mail out absentee ballot applications to voters.  The voters will only receive an actual ballot if they fill out the form, mail it in and their information is verified by the Registrar's office.
Once a voter requests an absentee ballot, their application is reviewed by the Registrar's office. If the application is missing any of the required information, it is rejected and the voter is notified. If the application is accepted, an absentee ballot is mailed to the voter.  Once the voter completes the ballot and places into the inner envelope and mails back the ballot to the Registrar, the ballot is processed by Officers of Election inside the Central Absentee Precinct located inside the Registrar's office.  First, the inner envelope containing the ballot is examined to ensure it has been completed correctly.  If the envelope is not complete, the envelope is never opened and the ballot is rejected.  Under a new Virginia law, if an absentee ballot is rejected for missing information, the Registrar's office is required to contact the voter and give them three days to come in and provide the missing information so that the ballot can still be considered.
Once the envelope is checked and considered complete, an officer of election will look up the voter's registration record, they will confirm that this voter requested an absentee ballot and the voter will be checked in to vote in that precinct. Once a voter is checked into a pollbook and marked as having voted, no one else can be checked into vote with that voter's information. Once this step is complete, the envelope is opened and the ballot is removed.  The ballot is fed into a voting machine and counted. While the vote has been counted, the results are not immediately reported. The results tape of the voting machine is not printed until after polls close on Election Day.  The voting machine is stored in a secure room until the results tape is printed.
Can I vote early if I am disabled?
If you are disabled or care for someone who is disabled, you can bring them to vote and vote early FROM YOUR CAR outside the Registrar's office or at any early voting location during operating hours. A handicapped placard is not required to vote curbside from your car.
For Our Military and Overseas
Visit the Federal Voting Assistance Program (FVAP) for voting assistance for Service members, their families and overseas citizens
Application Instructions
Please be sure to answer

 

every

 

question and

 

sign

 

the application.
Return the completed application by 5 p.m. on the 11th day preceding the election.
After the Registrar's Office receives the application and processes it, a ballot will be mailed to the mailing address provided on the application.